Meet the breeder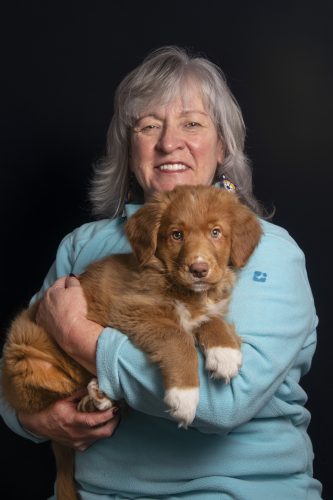 Hi, my name is Isabelle Southcott.
I was seven when our family purchased our  first Toller – Alexander Rufus of Schubendorf. I grew up in Nova Scotia but moved to Powell River (qathet) British Columbia in 1993. A journalist by profession, I have owned a community magazine, qathet Living, since 2006 and it's not uncommon for photos and stories of  my beloved Tollers to find their way onto the pages of my magazine. I became Vice President of the NS Duck Toller Retriever Club of Canada in 2023. I am grateful to my many mentors who include Jane Wright, Barbara Blauvelt, Siona and Panagiota Rounis, and Dianne Gordon.
I am a member of the Canadian Kennel Club and the NSDTR Club of Canada of which I am currently the Vice President.  I've competed in Rally Obedience, Dock Diving, Conformation and Sprinter Trials with Jigs and she has done really well. She has her CKC Grand Championship, Rally Advanced, Dock Diving Masters, Sprinter Novice and her Canine Good Neighbour certification.  She had a litter of puppies in July 2022 so we  put the brakes on outside activities that summer.   I began showing Zunga in 2022 on a limited basis because of the pups and as of the end of August 2023, he was half way to his Grand Championship, had earned his Canine Good Neighbour, Dock Diving Masters and Rally Intermediate. He has competed in Sprinter trials once and loved it!