East West Duck Tollers is home of the Nova Scotia Duck Retriever in Powell River and qathet, BC. I've had Tollers since I was a child, but when I purchased Scotiapride's Acadian Jig from Barbara Blauvelt in South Ohio, Yarmouth County, NS in 2019, it was with the intent to show and breed her so we could have more Tollers in this community. Powell River is an isolated community at the top of the Sunshine Coast – with so many fabulous hiking trails, lakes and of course the ocean at our doorstep, it's paradise for Tollers. I'm excited to bring a bit of the East Coast to the West Coast with Nova Scotia Duck Tolling Retrievers.
I was seven years old when my love affairs with Tollers began. It was the late 1960s when our family drove to the Shubenacadie Wildlife Park in Nova Scotia where we lived to pick up a little puppy with a big name – Alexander Rufus of Schubendorf.  Bred by Eldon Pace, this little red ball of fluff became known as Sandy and before long he stole the hearts of our entire family. Since that time, I've owned several other Tollers.
Alexander Rufus of Schubendorf "Sandy" with me, my brother and sister in the early 1970s in our backyard in Halifax, NS.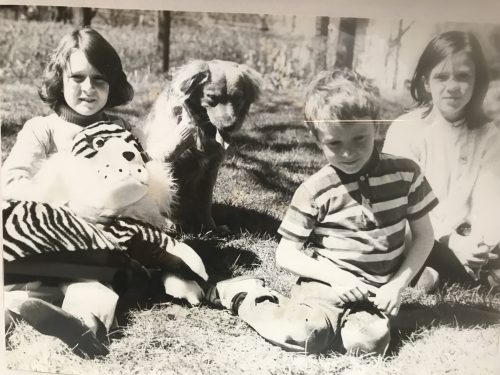 Our second toller "Kizzy" came from Avery Nickerson's Harborlight's Kennels in Yarmouth. Avery and Eldon worked closely together to re-establish Tollers as a recognized breed with the Canadian Kennel Club in the late 1950s.
Kizzy and Isabelle (Izzy) – me – in the 1970s.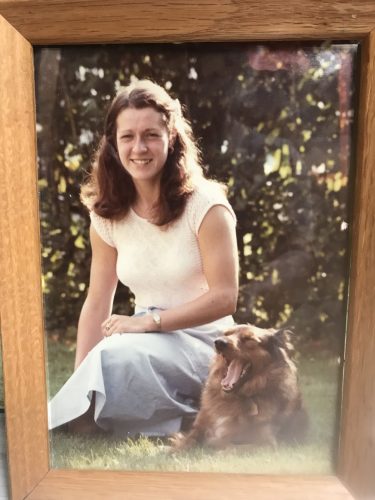 I moved to BC and when it came time to for a family dog for my children, we purchased a Toller from a breeder on Vancouver Island. Hunter Pumpkin was the best dog ever – he was my heart dog and my canine soul mate. He was also my children's best friend. Hunter died at the age of 13 in 2001 but before he passed he was able to "train" Jigs!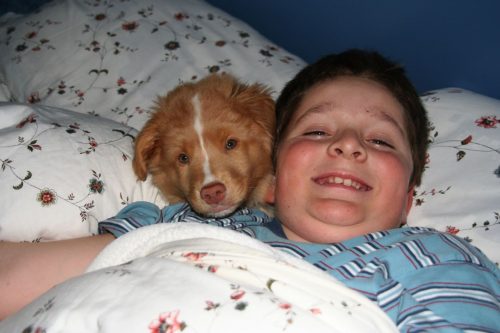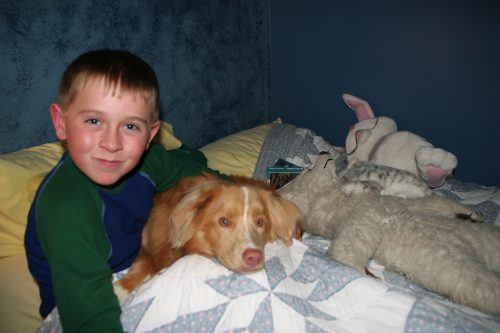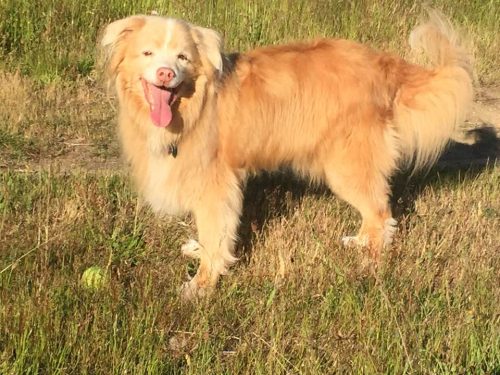 Our beloved Hunter Pumpkin was the best family dog ever. Not only did he help me through a particularly difficult time in my life but he also helped raise two boys and was their best friend.