Scotiapride's Acadian Jig had her first litter in July of 2022. She had two boys and two girls. She was bred to Blueridge Mountain Ranger owned by Scotiapride Kennels in Yarmouth, NS. Ranger was bred by Gwen Kinney-Casale, Blue Ridge Tollers in Virginia.
Both dogs have been health tested – see health info page for more information.
In May 2022, Jigs and Isabelle flew home to Nova Scotia. Before going on a honeymoon with Ranger at Scotiapride Kennels (Barbara Blauvelt) in Yarmouth County,  Jigs and I visited Little River, home of the Nova Scotia Duck Tolling Retriever – where the legend of the Toller began so many years ago. She has been coast to coast twice and has visited Little River, Yarmouth County, Nova Scotia and Little River, in the Comox Valley, British Columbia!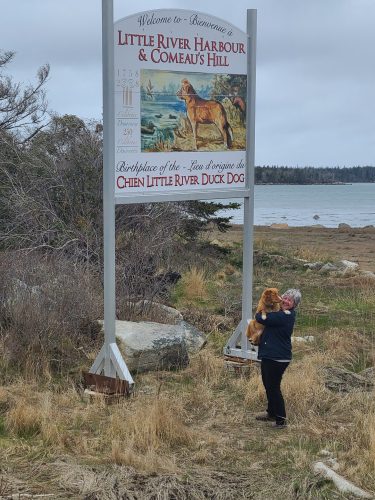 Jigs agreed to have her photo taken beneath the Little River sign providing she was able to run around and check out the duck blind!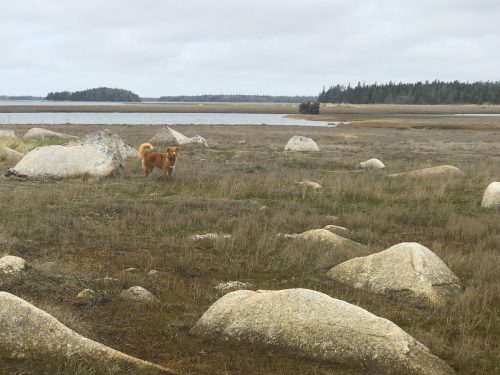 Then Jigs met Ranger and Barbara Blauvelt assured me that Jigs wouldn't miss me at all….
This is the story of Ranger.
Blue Ridge Mountain Ranger is owned by Scotiapride Tollers- scotiapridetollers.com (Barbara Blauvelt) of South Ohio, Yarmouth County. He is the sire of Jigs' first litter.
There's an interesting story behind Blue Ridge Mountain Ranger – this is what Barbara  posted on her Facebook page in June 2019 about how Ranger came into her life.
"Growing up back in 1971 Fred Armstrong's Little River Duck Dog Ranger lived across the street from us. Ranger was kinda the neighbourhood dog. He loved everybody and we loved him.
Always in the back of my mind "someday" I'm going to have a Little River Duck Dog and his name will be Ranger.
Fast forward to 2017: Jim Jeffery of Littleriver Kennels and I had many, many talks over the years of planning ahead. I knew his plans were for someday for Jana to take over his kennel and he wanted me to be able to advise and guide her as he had done for me.
We were in the process of choosing our next puppy for stud when Jim passed.
Summer 2016: I was over to Jim's and met Gwen Kinney-Casale a friend of Jim's and a Toller breeder he had mentored visiting from Virginia, USA. She had brought Jim a beautiful female from her kennel named Star who lives with me now.
We both kept in touch with Gwen and when CH-Littlerivers Radko retired from Jim's breeding program and Emerson Smith's Shadowhills Rip Tide Nova Pride (a.k.a Sidney Crosby) retired both of these stud dogs went to Gwen & Blue Ridge Tollers in VA.
June 1 2019: Two vehicles came up my driveway a little Toyota and a silver van with Virginia licence plates.
The van was driven by Gwen Kinney-Casale and she presented me with an absolutely adorable little boy puppy, our future stud dog, my Ranger.
I would like to think that Jim would have looked this puppy over and said "Nice looking pup, solid, sound, good genetics and great bloodlines!"
Out of the 2nd vehicle was Jim's daughter Jana & Jim's grand-daughter Deanna.
So Jim, this ones for you! We knew what you wanted and we will make sure to the best of our abilities your wishes are carried out. You will never be forgotten we all love and miss you and now we can say…
Names to note: Armstrong, Kinney, Jeffery, Smith-NovaPride.
Oh…one more thing:
Last month Fred Armstrong's grandson Steven Armstrong dropped in. I hadn't seen him in years! We were reminiscing about back when we were little kids and Ranger was his dog.
And he said I'd like to get a pup from you in a couple of years…
I don't believe in coincidences
I believe in Karma
Gwen Kinney-Casale, Jana Jeffery, Blue Ridge Tollers."
Here are the photos of Ranger as a baby!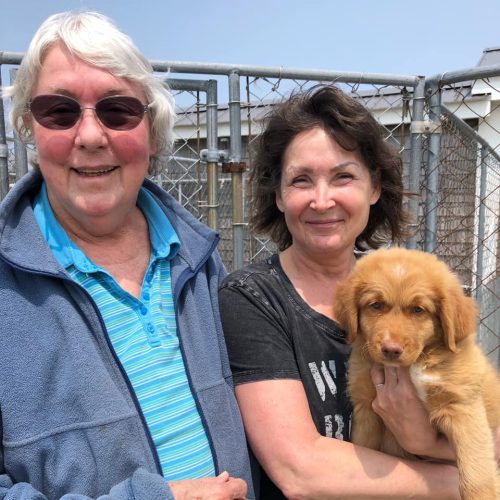 Gwen Kinney-Casale (left) and Barbara Blauvelt with Ranger.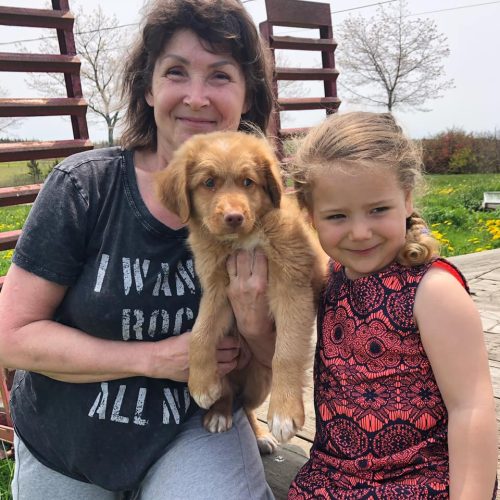 Barbara Blauvelt, left and Jim Jeffery's granddaughter Deanna, snuggle up with Ranger.
And here is Ranger today.
And after spending a week with Ranger at Scotiapride Tollers, and a week visiting friends in Nova Scotia and visiting a house I purchased near Coldbrook,  Jigs and I flew back to BC. We had an unexpected 12 hour layover at the airport in Calgary but Jigs didn't mind at all!  I think she quite enjoys travelling because she gets lots of attention and puppy treats. Here she is chilling at the Calgary airport.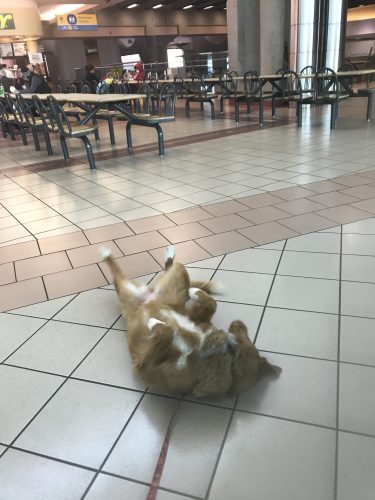 We finished our trip when we landed in Comox, BC. We had to take the ferry back home to Powell River and interestingly enough BC Ferries leaves from Little River, BC to go to Powell River, BC. So Jigs got her photo taken at the Little River, BC sign just to make her trip complete. This Nova Scotia Duck Tolling Retriever has been coast to coast – not once but twice! Here she is at the other Little River.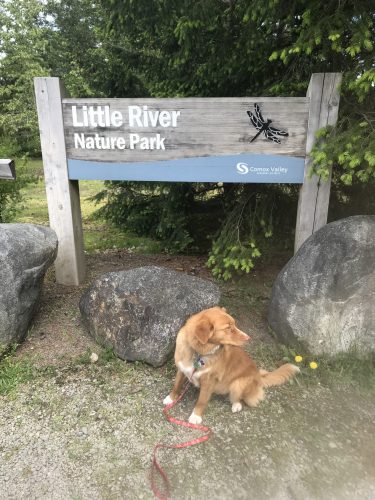 At the nature park by the terminal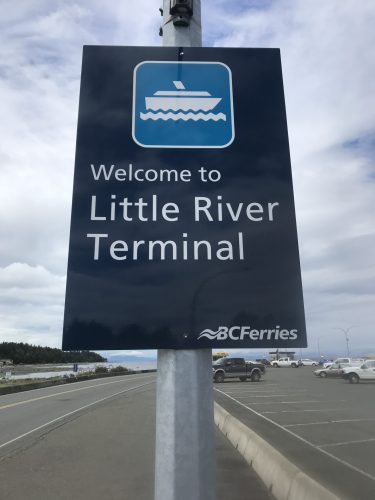 At the terminal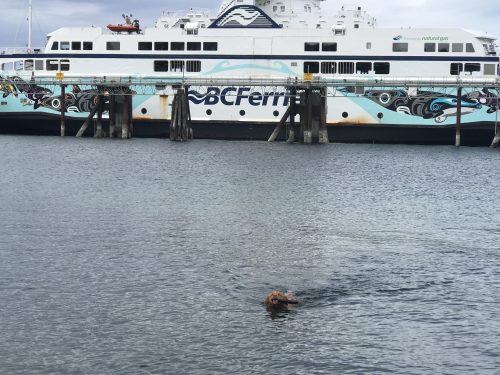 Jigs couldn't wait to go swimming while we waited to load the ferry!