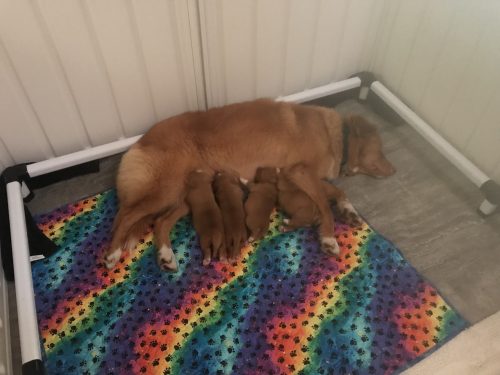 The Jigs/Ranger litter arrived on July 10, two girls and two boys. Mom and babies are doing well. All puppies are spoken for.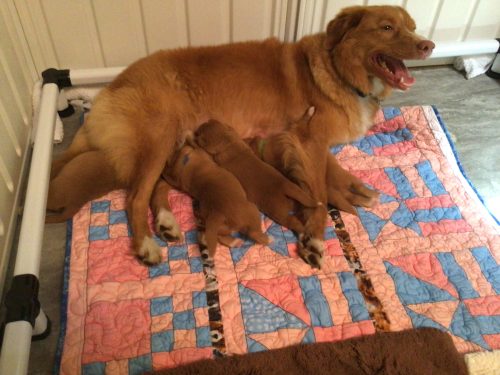 These little sausages turned two weeks old on July 24. They're growing in leaps and bounds and are ever so clever.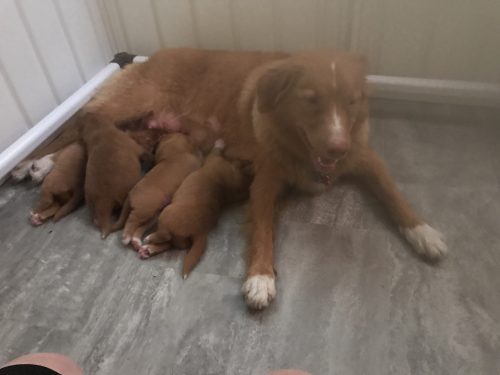 July 25 and it's hot out! Momma and pups have a fan on low blowing in the nursing pen.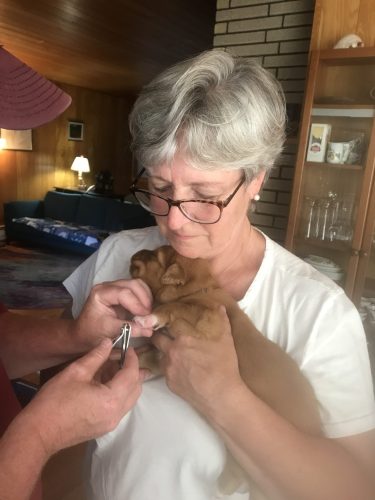 Today we cut their nails. Big thank you to DJ who knew exactly what to do! The pups struggled a bit at first but quickly settled down. Afterwards it was snuggle time with Tonia.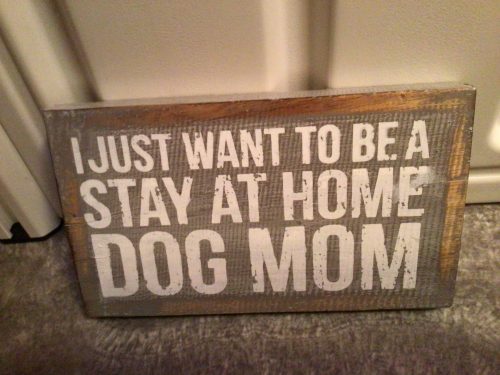 Need I say more? They are just so darn cute!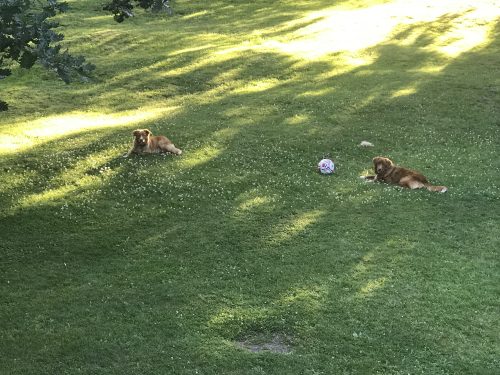 Its' not all work and no play. In fact Jigs and Zunga spend a few hours chilling and playing ball outside on the lawn every evening.
This is what  the puppies look like at three weeks old! Oh so snuggly and lovable.
Today is August 2 – pups are just over three weeks old and they are ever so cute! Here's some puppy spam for you.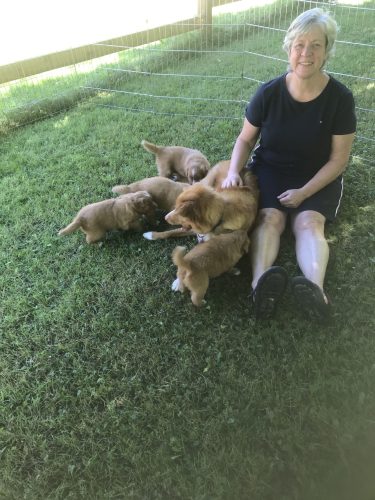 August 7, 2022: Missing the Maritimes litter turned four weeks old today and went outside to play! They had lots of fun and are now roughhousing, growling and bouncing about.
Below, Little Miss Shubie sat still long enough to pose for her picture to be taken.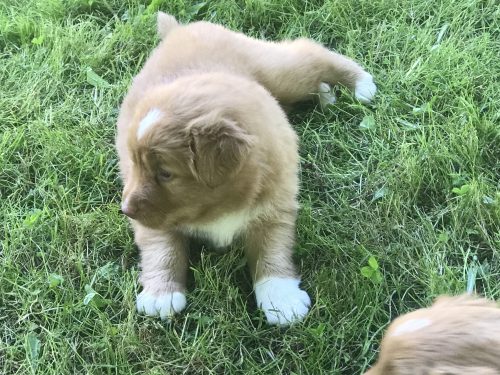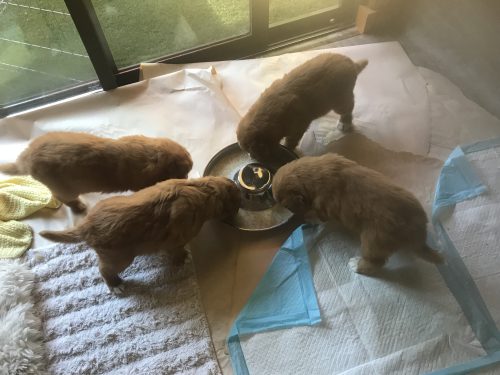 At four weeks, they are eating a bit of puppy mush! Not sure how much they get on themselves and how much ends up in their tummies but they are super excited when I enter their pen calling "Here puppy puppy," holding a plate of food.
Five weeks and in the small puppy pen outside! Big dogs keep a watchful eye on everyone in the next yard but there is always a person watching the puppies as birds of prey have been known to snatch up young puppies.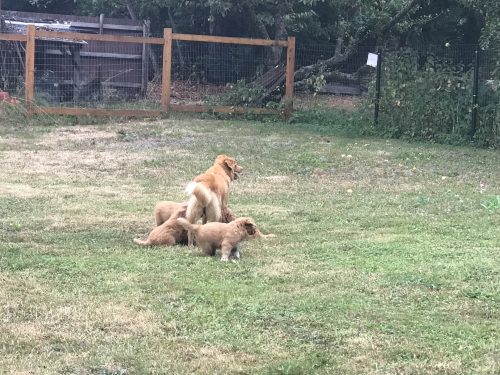 Six weeks old and in he big yard with mum now.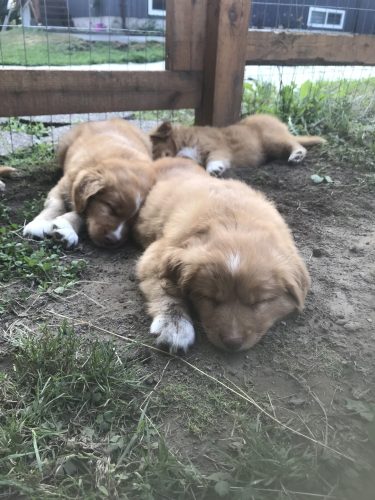 Their little faces are beginning to change now that they are six weeks old. They love being outside!
Missing the Maritimes turned  seven weeks old on August 28. Their little faces aren't so squished in and they have definite personalities. They come running when I call, "Here puppy, puppy!" and boy oh boy, do they ever love their puppy food. They spend a lot of time outside now in the shade tent that I have eagle proofed so they can be out when I am not there. Their special outside pen is inside the big dog's yard and I leave the big dogs out to guard the little ones.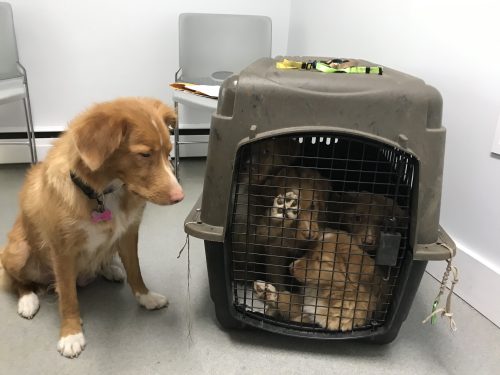 And here they are on September 6 at eight weeks of age at the vet hospital just before receiving their vaccinations and being microchipped. All went well, they were superstar travellers too!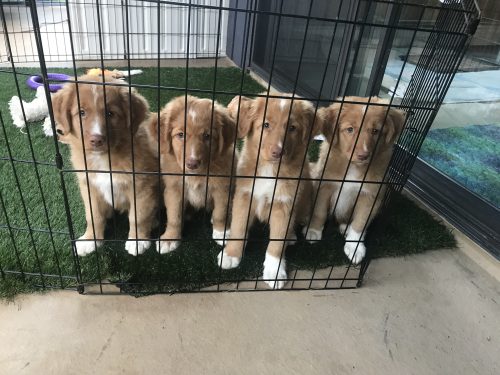 This is the last photo I have of the puppies all together before they begin leaving for their new homes.